"A garden should make you feel you've entered privileged space – a place not just set apart but reverberant – and it seems to me that, to achieve this, the gardener must put some kind of twist on the existing landscape, turn its prose into something nearer poetry." – Michael Pollan 
For those of you who may wonder what I do when I am not writing a blog post, I will tell you. Most often I can be found in the garden. Truly, I am completely over the moon about gorgeous flowers. The reason for my madness is simple – gardening is in my bones.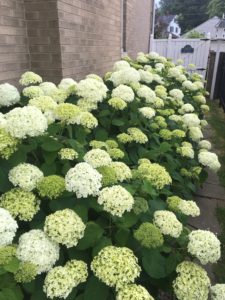 We all have things we love, obsess over, collect or perhaps hoard.  I prefer to think we have inherited "genes of gorgeousness."  Clearly, no one obsesses over something they do not deem beautiful.  So, today I thought I would share a wee bit of my story – a love affair and obsession with blooms.
My flower gene came to me via my grandmother and mother.  Both lovers of the garden and flower worlds, but each were different.  My grandmother's love was roses, and she did grow some beauties.  But my mother loved magnificent trees and flowering shrubs.  Trees, such as Hemlock, Ginkgo and Golden Rain. And flowering shrubs, such as rhododendron, azaleas and spiraea.  Mom also had a marvelous artistic talent, which came shinning through in her floral designs.  Her designs won her many flower show awards and led her to become a National Flower Show Judge.

Because of these two extraordinary women, I melt when I see old garden roses, rhododendrons in bloom or a stunning floral arrangement.  And, a June never passes that I don't think of  mom's Golden Rain tree.  However, like my grandmother and mother who each loved different things, I do also. I am what you might say a "crazy about what ever blooms," kind of girl. Especially peonies.  Oh my goodness, how I love peonies.  Actually, I collect them and left over 200 different varieties in a former garden.  Although, in addition to peonies, I have quite a list of other gorgeous blooming plants I can stand for hours and gaze upon. And, I must also confess, I am a little mad about Boxwood too.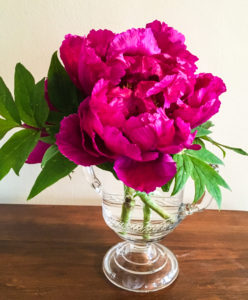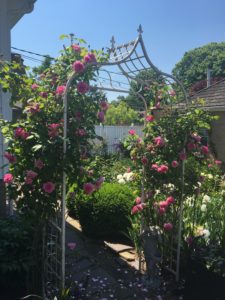 But the point here today is, how I came by my passion. Quite simply, I inherited the "genes of gorgeousness" from my grandmother and mother.  Truly, I wish I could tell you the joy it has given me my entire life.  They passed to me a seed which has grown and bloomed profusely.  To both of them, I am forever grateful.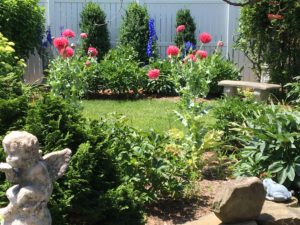 Today, perhaps give some thought as to why your heart melts when you see a certain color, photos of a specific place on this earth, or glorious flowers in bloom. Then, think of a family member who was fond of the same things or places.  Ah, yes we do inherit "genes of gorgeousness."  So, the next time you receive a gentle nudge as you gaze upon something you deem gorgeous – pay attention. You too, may have been passed a seed which is just waiting to grow.
Thanks for visiting.  I hope you have enjoyed your "walk with me."  
Au Revoir,
Sandra
Note:  Before you leave today, be sure to check the Events section of the blog.  It has been updated and there are lots of great things happening.
Photos:  All photos are of my garden or from my garden. Photos taken by: M.S.Lambiotte