"Home is the nicest word there is." ~ Laura Ingalls Wilder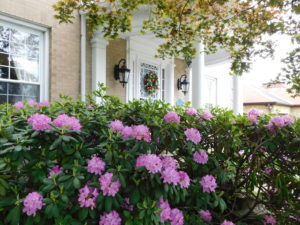 Our home, Maison de Jardin (The Garden House), circa 1939
"Good morning!" The bird says to you. "Good morning!" The bird's friend says to you. "Good morning!" "Good morning!" "Good morning!" ~ unknown 
Dear friends, the birds are so happy to see you and I am too.   Isn't it wonderful ~ we have another new day to greet?  I do hope you are seeing sunshine, blue skies, and signs of spring.
"My home. It is my retreat and resting place," said  Michel de Montaigne.  I believe those words to be true for all of us.  And, now that spring has arrived, we are anxious to fluff our nests, open the windows, and say goodbye to winter.  Our dear home receives so much light and when the sun shines through her many windows it certainly brings to the front the things which need my attention.  Sound familiar?  I enjoy our home (our 'retreat') looking happy and fresh, not tired from winter, and I imagine you do also.
So, do you have spring projects in mind?  Perhaps, you are thinking of painting your front door a lovely new color, or there is a chair which has seen one too many winters and is in need of reupholstering.  Maybe you have thoughts of a new wall color for a room, or you have decided the pillows on your sofa are tired.  For each of us, the list will be different.  All this being said, today I thought I would share some pretty colors I have found to possibly give you a bit of inspiration.  A fresh color can give energy to a room and to you. 
Without further chatter from me,  find your coffee and let's begin.  Remember, as you go along, this post is not to show you designs or styles it is about color inspiration.  And, you will see at the end of each color segment, I have added something from Mother Nature.  I always go to her for inspiration.


"You can never go wrong with a little pink…a lot works too." ~ Dana Dalgetty
 I am a little smitten with the background color of this sofa, love the toile also.
Pink just makes this room smile.
 It is hard to surpass the many shades of pink offered by Mother Nature.


"For still there are so many things that I have never seen:  In every wood, in every spring, there is a different green." ~ J. R. R. Tolkien
 Green is nature's color and there is a shade of green that will be happy in every room and with every color.
The color green symbolizes balance, nature, spring, and rebirth. It's the symbol of prosperity, freshness, and progress.
I love the many shades of green in this arrangement, especially in the leaves of the Aucuba.


"How lovely yellow is! It stands for the sun". ~ Vincent Van Gogh
 "Live in rooms full of light." ~ Cornelius Celsus
"Sunlight! The most precious gold to be found on Earth." ~ Roman Payne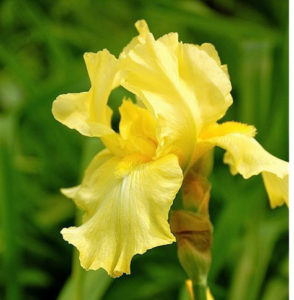 Iris, Pandora.  Named for the lovely lady who gave her to me.  Pandora is pure sunshine.


"Blue color is everlastingly appointed by the deity to be a source of delight." ~ John Ruskin
Blue is my favorite color.  All shades of blue speak to me, but I am partial to the soft French blue, such as the door below is wearing.
"There is no blue without yellow…" ~ Vincent Van Gogh
Just in case you have plans to paint your front door, the French believe blue on outside doors and shutters sends away evil spirits.  
This room certainly gives inspiration for color selections.  From the background color of the wall covering to the many colors of pillows.  The lovely emerald green is a color which captures my attention.
"Oh! Darkly, deeply beautiful blue, as someone somewhere sings about the sky." ~ Lord Byron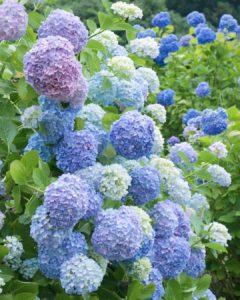 Again, Mother Nature shows us such lovely shades.


In closing, I hope you have enjoyed your visit.  And, perhaps you have received a bit of inspiration for a project you may be pondering. If you are uncertain about a color you would like for a specific project, take a trip through your local garden center and soak up the blooms.  You are certain to fall in love with a color that will make your smile. 
Peony, Coral Sunset (see note at the end of this post)
"What a desolate place would the world be without flowers."  A. J. Balfour
Wishing you glorious spring days. 
And, may you…
Créer de la beauté, devenir inspiré  ~ Create Beauty, Become Inspired!

Au Revoir,
Sandra
Notes:  Pantone's Color of The Year, 2019 ~ Living Coral
"Living Coral emits the desired, familiar, and energizing aspects of color found in nature." – The Pantone Color Institute
Images: Michael S. Lambiotte, Pinterest, Traditional Home, Tumblr