"The only difference between an extraordinary life and an ordinary one is the extraordinary pleasures you find in ordinary things." ~ Veronique Vienne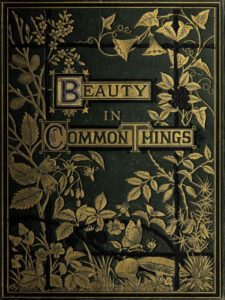 Last week, while looking for photos, I came across the cover of this lovely vintage book.  While the cover design is so pretty, it was the title that captured my attention ~ "Beauty in Common Things."  The words have been on my mind.  So today, I thought I would share my thoughts.  
"Beauty in Common Things," inspired me to think of the truth to the words, and how I much I believe our ability to live life well truly depends on recognizing such things when we see them.  The words also resulted in my thinking about my blog ~ why I began writing it.  And, am I being true to the reasons why I began?

"I'd like to add some beauty to life," said Anne dreamily. "I don't exactly want to make people KNOW more… though I know that IS the noblest ambition… but I'd love to make them have a pleasanter time because of me… to have some little joy or happy thought that would never have existed if I hadn't been born." ~ L.M. Montgomery, Anne's House of Dreams
Actually, my thoughts are exactly those of Lucy Maud Montgomery's, "Anne."  You see, " I want this blog to be special for you – something you look forward to in our crazy world, a source of inspiration.  I want the blog to provide a "pleasant time, some little joy or happy thought."  A tiny gift you receive as a result of your visit.  I want the blog to be a "well of sweetness."  Basically, these were the reasons I began writing my blog, almost two years ago.  My heart had grown weary of so much 'ugly' in the world.  Therefore, I decided I wanted to do something which would add a little beauty and joy to our daily rounds.  I feel I have lived long enough to have something worthy to say and if my efforts bring joy to even a few ~ I feel as though I have been successful.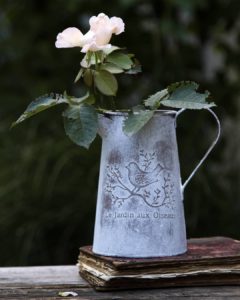 Translation ~ The Bird Garden

"The simple things are also the most extraordinary things, and only the wise can see them." ~Paulo Coelho
When you visit the well at 'Maison de Jardin,' I want you to drink and enjoy the beauty.  Beauty, such as fabulous home interiors, lovely textiles and needlework, wonderful gardens and magnificent views of nature ~ all accompanied by beautiful words. But especially, I never want to become so immersed in the grand that I fail to show the "beauty in common things," like cheerful late summer dahlias or a barefoot girl with a bouquet of delphiniums.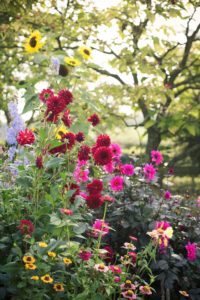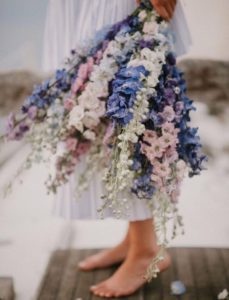 "Remember honey, ~ "The earth loves to feel your feet and the wind wants to play with your hair." ~ Belle Fears, my grandmother
What is important to me is that you take away something of beauty you can carry in your heart.  Lovely words, written by some marvelously talented soul or an image you can keep tucked in your mind while you are in the middle of a spinning world.  I want my blog to touch your heart through the "Beauty in Common Things," things such as my blogging friend, Penny posted on her blog a couple of weeks ago.  When I saw her post, my heart smiled ~ yours will too. And, by the way, the name of her blog is, "Enjoying The Simple Things."  Visit here.

"Beauty Inspires Your Love For Living" ~ Alexandra Stoddard
Personally, I believe the love of beauty lies within each of us.  I believe it is truly in our hearts – even if we do not know, or recognize it.  Often, a moment of grace opens our eyes to beauty.   Beauty is everywhere, in everything and in everyone.  It inspires us, moves us forward, enhances our homes and can make life sweeter for ourselves and those we love.  It holds power and is a vital component to living well.
Possibly this is why I am drawn to the French way of life.  Their style of living is not about wealth.  It is about slowing down, taking time to notice the small things, sharing moments with those they love, and not filling every moment of every day with, 'something.'  They understand quality as opposed to quantity in everything from food to home furnishings.  They are creative, they well know new does not necessarily  mean better, and they are absolutely not a 'throw away society.' Perhaps this style is a result of all they have endured. The brutal horrors of war ~ not once, but twice during the 20th century.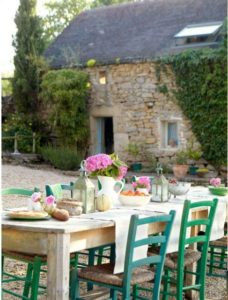 Indeed, the French understand living well and have shown me an enlightened way.

"Pleasure is spread through the earth In stray gifts to be claimed by whoever shall find." ~ William Wordsworth 
As I stumble and make my way through this blogging world, know I promise you my best always.  My blog may be for some and not for others, we all enjoy different things.  It is my platform to scatter joy and beauty in our world.  And, hopefully, inspire you to do the same.  By being open to, and aware of beauty, I believe we can make a difference in our world.  Because beauty and grace make us a kinder people ~ really it does.  And, it can have an enormous 'ripple effect.' That, is up to each of us.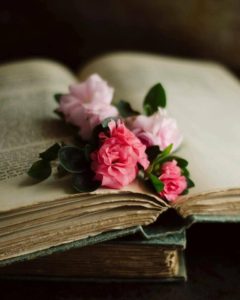 For those of you who have been following me, I hope you will continue. I invite you to share your thoughts about my blog ~ both likes and dislikes.  If you do not wish to post a public message, you can always send a message under the "contact" section of the blog.  It will go directly to my email and not be visible to the public.  You and your comments are important to me.  
I want to sincerely thank everyone who is reading this, especially today, for your time.  For me, it was important to remind myself and my readers the reasons I opened the doors to Maison De Jardin ~ to inspire, share my great passion for beauty, and to scatter joy.  And, to inform those readers who may be new of a little history.
So, won't you put your hand in mine, together I do believe we can make subtle changes in our world toward good.
Wishing You a Beautiful Day !
Au Revoir,
Sandra
A Few Notes:
"Well of Sweetness" ~ are the words of Susan Branch
"Beauty Inspires Your Love For Living" ~ are not only the words of Alexandra Stoddard, but they are also the title of a talk she gave in Clarksburg, West Virginia during April, 2008.  The talk was open to the public and was attended by over 250 people.  It was organized by, yours truly.
Photos:  Tumblr and Pinterest ~ I do not claim ownership to these photos. These photos are the work of tremendously talented people, I have compiled them for your enjoyment.