Books are the quietest and most constant friends; they are the most accessible and wisest of counselors, and the most patient of teachers. –  Charles W. Elliott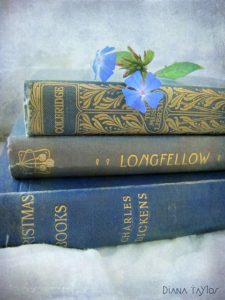 Flynn Knihovna C…Junk Bookshop/Pintrest
Good Morning Everyone and Happy Friday:
A couple of past posts have prompted readers and a fellow blogger to respond with a few reading suggestions.  So, I thought this morning I would pass them along.   I always enjoy having books recommended to me and I thought you may also.
The Red Tent, by Anita Diamant
A Prayer for Owen Meany, by John Irving
The Sense of Wonder, by Rachel Carson
Great Small Things, by Jodi Picoutt
I have not read any of the above, however, they all look like wonderful reads.  One in particular, which really caught my attention, was The Sense of Wonder, by Rachel Carson.   If you are not already familiar with this book, those of  you who have small children in your life, may want to give it a visit.  Ms. Carson encourages parents to take children into nature and for the adults to see nature through their children's eyes.  Or, as she so eloquently states:  "With clear-eyed vision, that true instinct for what is beautiful and awe-inspiring, what children are were born with."  This doesn't seem like it is simply a children's book – personally, I am looking forward to reading it.  I never think it hurts an adult to have their eyes opened.  Eyes opened, to once again see things in an innocent beautiful way.
Remember, to share your thoughts about these books or others here on the blog.  The fun begins – when the discussion begins!

Weekend Kitchen Happenings
Herb Roasted Chicken – Serves 4
1 large roasting chicken – about 6 lbs.
3 Tbls. butter, softened
1 clove garlic, minced
3 Tbls. grated Parmesan cheese
1/2 tsp. sage leaves
3/4 tsp. thyme leaves
3/5 tsp. basil leaves
6 Tbls. butter, softened
salt/pepper
Preheat oven to 425.  Wash chicken inside and out; pat dry.  Cream together 3 Tbls. butter, garlic, Parmesan cheese, sage, thyme and basil.  This mixture goes under the skin, so turn the chicken breast-side-up and work your fingers under skin at the openings on each side of the breast.  Continue onto thigh and leg and make the skin as loose as possible.  Using fingers, spread herb mixture evenly under skin.  Smear 3 Tbls. butter both inside the chicken and on the outside of the skin.  Put the chicken, breast up, in a roasting pan and then into the oven.  Melt remaining butter(I add about 3 additional Tbls.);  cook chicken 15 minutes, basting once.  Lower heat to 350.  Roast for about 20 minutes per pound, basting with melted butter about every 20 minutes.  Chicken is done when the leg moves easily in its socket and juices are clear yellow when pierced with fork (about 1 &  1/2 hours in my oven).  Allow chicken to rest about 10 minutes before carving.
Serve with your choice of potatoes (we love baked sweet potatoes), a green vegetable and a nice salad.  Easy and beautiful dinner.
Note:  I salt and pepper the chicken on the inside before I begin to loosen the skin on the chicken.  I use about 1 tsp. of salt and 1/2 tsp. of pepper.
Hot Milk Cake with Berries
1/2 cup butter
1 cup milk
4 eggs
2 cups sugar
1 tsp. vanilla 2 cups flour
1/2 tsp. salt
1 tsp. baking powder
Preheat oven to 325.  Combine butter and milk n saucepan, bring just to a boil (DO NOT BOIL). Beat eggs and gradually add sugar, beating constantly.  Add vanilla.  Sift flour and salt;  add to egg mixture.  Beat until smooth.  Gradually add the milk and butter mixture and beat well.  Add baking powder and beat again.  Pour into well-greased and floured tube pan (I use baking spray with flour).  Bake for 1 hour.  Cool for 10 minutes before removing from pan.  Serve with your choice of berries and a dollop of whipped cream.
Note:  This cake is perfect when prepared in half.  Bake in an 8 or 9 inch square pan for about 30 minutes.
Chicken recipe is from:  Heart of The Home, by Susan Branch
Cake recipe is from:  The Virginia Hospitality, cook book
Enjoy the recipes!
Thanks for visiting today, Love and Hugs to you!
Have a Beautiful Weekend –  See you Monday!
Au Revoir,
Sandra