"Beauty should be shared.  It is a right that belongs to everyone." ~ William Morris
Good morning, dear friends.  "I'm walking on sunshine" and I hope you are too.   "And don't it feel good?"  Now, don't ask me,  where those words came from? But, do lyrics from songs ever pop in your head for absolutely no reason?  They sure do mine.  I will attribute this particular song to sunshine and summer blooms.

Speaking of blooms ~ the garden has kept me quite busy this year and it does seem to take a bit longer to accomplish the things which need to be done.  I wonder ~"could age possibly be a factor?" Anyway, therein lies my reason for not writing a post for a few weeks.  Along with the fact that my 'inspiration hasn't been blooming.'  You see, I am in the final stages of 'spring bloom withdrawal.'  This always occurs as the spring blooms leave.   
But summer blooms came to my rescue and the days are finding me "walking on sunshine."  I am so grateful for the beauty of summer.
"I question not if thrushes sing,
If roses load the air;
Beyond my heart I need not reach
When all is summer there." ~ John Vance Cheney
These lovely hydrangeas shout, "Summer is here!"
And, is there anything prettier than a mixed summer bouquet?
That said, for my needed dose of inspiration, the subject for today's post is 'Beauty' ~ my absolute passion.  Because I feel beauty is vitally important in our lives, it seems as though I always have something to say on the matter.  And, with the help of the internet world, beauty abounds.  Therefore, I hope you enjoy your visit and leave totally inspired.  Because my friends,  beauty does make our lives sweeter.

"Beauty is charm." ~ Lailah Gifty Akita
Beauty in our homes and gardens need not be extravagant to be charming and lovely.  Just as in this photo, there is the charm of the lace curtains and soft light in the window.  Of course, the blush roses take the photo over the top.  I have no doubt the 'lady of the house' is seated in a marvelously comfy chair, reading a grand book, enjoying her surroundings, and a delightful cup of tea. 

"There is beauty in simplicity." ~ unknown
"In a simple and a peaceful cottage…
with a beautiful view, you will not be dreaming about the palaces or the heaven, because you already have a perfect thing!" ~ Mehmet Murat Ildan

"Beauty comes from tenderness." ~ Katherine Cente
Butterflies are so beautiful.  For some reason, I always feel as though I should be still and quiet when they are around.  Dancing from bloom to bloom, never making a sound, they cause us to pause and be in awe of their beauty and gracefulness. I think they are saying, "I have come to thank you for the blooms, so please stop what you are doing and watch me." 
The delicate beauty of wildflowers should not be ignored.  They happily live without any attention, other than a drink from the heavens, and thrive to beautify our roadsides and fields.  They are most worthy of our attention. 
". . . as I wandered the forest, the green leaves among, I heard a wildflower singing a song. . ." ~ William Blake

"Beauty is an accumulation of details, the kind of layering that takes a long time." ~ Hélène David
Our homes are filled with an "accumulation of details."  These details can remind us of people we love and perhaps places we been or plan to go.  The beauty of them is, they come together and are a representation of our lives.  Such beauty takes time, as does living.
Artist, Mildred Anne Butler (Irish; 1858-1941)
Most of us have a certain piece or two of art which speaks to our hearts.  These make us happy and there is something about each piece we love which captivates and charms.    As Pierre-Auguste Renoir once said, ". . . painting that lends joyousness to a wall."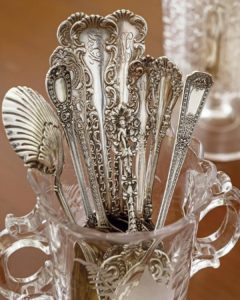 Or, perhaps you may have a collection of beautiful vintage teaspoons sitting in your grandmothers spooner.  Years ago, spooners were most often kept on the kitchen table for easy access.  Mine has a place on the kitchen counter.  The spooner and spoons are special to me because of the lovely details on the spoons and the beautiful memories of the many places they have been collected from throughout the years.  And, I can assure you my morning coffee tastes better stirred with a silver spoon.  Do you have a spooner and spoons?
"Surround yourself with things that you love, and you will always have inspiration in your life." ~ Amelia Cooke
Whatever the things are that you love, how they have come to have a place in your home are part of the 'details' which make them beautiful.

"Beauty is above genius, because it does not require understanding." ~ Oscar Wilde
Oscar Wilde was correct, " Beauty does not require understanding."  When we see something which makes our hearts pound. . . all we need to do is stand in awe and enjoy.  There is nothing to understand about the beauty of these gorgeous lilies, one just needs to drink their beauty.
"I felt a sudden shock of beauty so strong that I could only stand frozen in wonder." ~ Billy Baldwin
"They blew in the wind softly, this way, that way. They were not disappointed when they saw the scissors, rather they braced themselves sweetly and shone with willing-ness. They were on tall and tender poles, with wheels of leaves. They were soft as the ears of kittens. They felt warm in recognition of the summer day. A dozen was plenty. I held them in my arms. They were silent the way the deepest water is silent. If they wondered where they were going they didn't show it, as they sprinkled freely over my shirt and my hands their precious gold dust." ~
Mary Oliver

"It was a glorious evening, the sun seeming to hesitate in the process of setting, as if it couldn't bear to end the day. It was teetering on the horizon, throwing ribbons of pink and mauve across the sky like life ropes, and the air was sweet with jasmine." ~
Kate Morton
East Texas Sunset
In closing, know how much I appreciate your visit.  I do hope you have enjoyed your time spent with me at Maison De Jardin.  It is always my goal, to begin your day on a happy note and give you an image or a few lovely words to tuck away in your heart.  I believe we all need these things to move us forward in our daily rounds.

So, until we meet again, know I am wishing you glorious summer days "Walking on Sunshine."
And. . .
"May you touch dragonflies and stars, dance with fairies and talk to the moon." ~ unknown

Amour,
Sandra
Notes:
The lyrics to "Walking on Sunshine" were written by, Kimberly Rew.
Images: via tumblr