Dear friends and followers of Sandra's journey toward making the world a little more beautiful. She so loved writing and trying to inspire people to not only look, but to see the beauty around and to  share it with others. Oh, the hours she spent on each post. looking for the right quote and photo.
When she wrote this post, her health was failing, but her spirit kept blooming. Less than a year later, she was gone. I guess God needed her more than I did.
Nevertheless, this story is about her special love for beauty. She takes you on a spring tour of her beloved gardens and sprinkles in some amazing quotes.
Walk with her …and not only look…but see the beauty in her gardens, but also the beauty in your own life.
 Sandra, "I love you more."
ENJOY!
"This magnetic pull toward beauty is an inclination most of us carry but too few of us acknowledge.  Even if we are aware of it, we seldom honor it as something planted in us for a purpose." ~ Christie Purifoy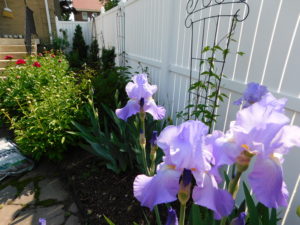 Iris ~ Cheryl's Big Blue (Named for my dear friend who gave her to me.)
Good morning, dear friends.  As I write this (Saturday, 5-21) I am under blue skies, lovely warm temperatures, the window by my desk is open and the birds are singing, the peonies and lilacs are in bloom, and on a gentle breeze, the luscious fragrance of the garden drifts inside ~ all just for me.  Believe me when I say, "I am grateful for every sound, sight, and smell."  This morning, I hope you will join me for a bit of a stroll in the garden.  You may want to find your coffee/tea before we go.

"I opened the large central window of my office room to its full on the fine early May morning. Then I stood for a few moments, breathing in the soft, warm air that was charged with the scent of white lilacs below." ~ Angus Wilson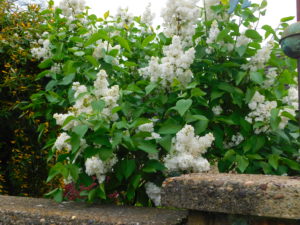 'Madame Lemoine', a French hybrid lilac.
"I cannot understand why my arm is not a lilac tree." ~ Leonard Cohen

"Adults are content to walk the same way, hundreds of times, or thousands:  Perhaps it never occurs to adults to step off the paths.  To creep beneath rhododendrons, to find the spaces between fences." ~ Neil Gaiman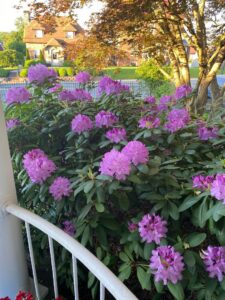 It is Rhododendron time in these West Virginia Hills.  The rhododendron is our state flower and was a favorite of my mom's.  Along the back of her garden, she had a stand of Canadian Hemlock Trees with native rhododendrons in front of them.  It was truly a magnificent sight.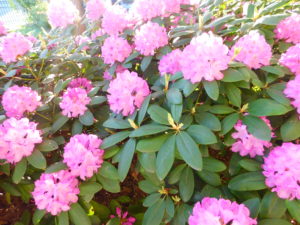 This is a rather new beauty in our garden, which I believe was planted about three years ago.  This spring she has decided to 'show off.'  Her name is 'Bright Eyes.'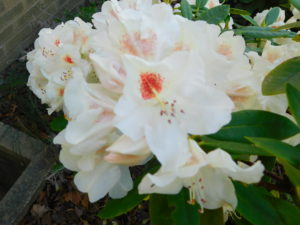 "May, and after a rainy spring We walk streets gallant with rhododendrons." ~ Alicia Suskin Ostriker

"The immortality of Flowers must enrich our own. . ." ~ Emily Dickison, In a letter to Edward Tuckerman ~ Jan. 1874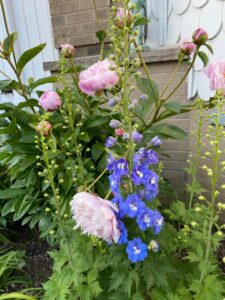 This photo of the peony and delphinium made my heart sing.  The peony is 'Faith Fenton.'  She is the most fragrant peony in the garden, plus she is a big girl.  Standing at least four feet tall.  The blooms on the delphinium are as tall as the peony.  I do believe it is because we have had a wet and cool spring. Plants have opened gradually and did not feel rushed.  No one likes to feel rushed.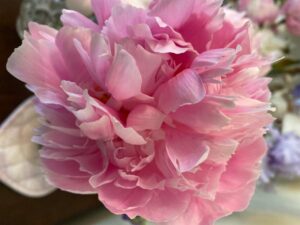 An up-close photo of 'Faith Fenton.'  She has a long vase life and does not drop her petals.
"And the wind upon its way whispered the boughs of May, And touched the nodding peony flowers to bid them waken. ~ Siegfried Sassoon
Most of our peonies are awake.  However, there are many still in the bud stage.   To avoid their feelings being hurt, I will share a few currently in bloom.  I have referred to peonies as "Queen of The Garden" for so long.  Honestly, I do not think they believe there are other flowers that compare to their beauty.  In all seriousness, in my mind, they are quite special. 
In the vase are, clematis~'Josephine, peony~'Command Performance(red),  'She's My Star'(pink), Iris~'Black Knight,' and Baptisia.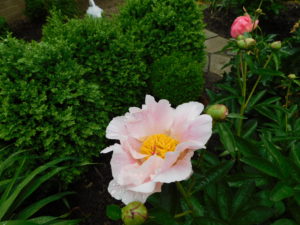 Peony, 'Chiffon Clouds.'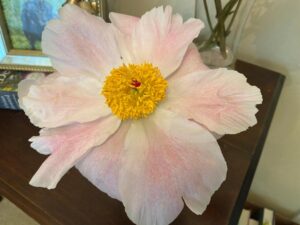 'Chiffon Clouds' is fully open and in a vase by herself.  Do notice the darker pink speckles on her petals.  God gave her special attention.
Peony, 'Red Grace' and my grandmother's white 'Chestine Gowdy,' and Baptisia.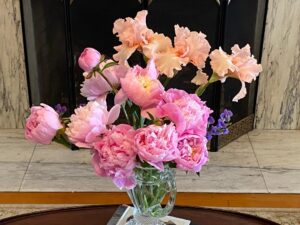 An assortment of pink ladies.  The iris is 'Beverly Sills."  She shows more color toward the peach side, where actually she is pink.
"My heart spasmed among the peonies like a trout." ~ E. Lockhart

Speaking of magic, I have been thinking of something to add to my post each week, but I am uncertain how to refer to them.  I have thought of several things, 'Godwinks, Butterfly Kisses, An Angel's Touch.  You get the idea.  They are special things that may have happened to me or my husband during the week.  In our crazy world, I believe it is important to note such things and share them.  I hope you will share yours as well.  
Also, many thanks to those of you who commented on my blog last week.  I now have my "readers" and am back to normal (whatever that may be).  I love reading your comments and missed being able to reply.
The week of May 15,  2022 ~ 'Godwinks'
1) As you know I had cataract surgery recently.  Now, this is not major surgery, but our eyes are vital.  The surgery was done in a small hospital about 25 miles from our town.  Stonewall Jackson Memorial Hospital.  My impression of the small hospital was totally amazing, in such a positive way.  Every person we came in contact with seemed only to care about me.  Such was the case with my wonderful nurse.  My goodness, she was well trained, not leaving even a tiny mark where she inserted my IV.  When I was leaving the hospital she met me at the desk and gave me a big hug and told me it had been her pleasure to take care of me.  Oh, but it doesn't end here.  A few days later, I received a hand-written note from her saying the same and wishing me well.  It was short, but the fact that she took the time was just overwhelming to me.  This beautiful nurse had to be extremely busy, but she thought I mattered.  What a thoughtful and caring act from truly a remarkable soul.  
2)  On another day, I had injections in both of my knees for arthritis.  Now, if you have never had these injections they are not pleasant.  Anyway, we were getting ready to eat dinner that evening and my sweet husband went to the garden and cut a vase full of brilliant yellow irises for our table.  They would make anyone feel better.  He also planted my zinnia seeds after he had been working in the garden all day.
3)  I had a special book dropped in my lap.  It was not recommended to me but it appeared on my screen when I was looking for the name of my lilac that I couldn't remember.  The book is titled "Placemaker" and the author is Christie Purifoy.  This is my first read by this author, but I simply felt a nudge to order the book.
Know I wish you and yours a beautiful day.
May the week ahead bring you love, joy, and kind souls.  Be well!
"Sacred spaces need not be perfect, but they cease to be sacred if no one cares for them" ~ Christie Purifoy
Amour,
Sandra

Images:  Michael S. Lambiotte