"Of all man's works of art, a cathedral is greatest.  A vast and majestic tree is greater than that." ~ H. W. Beecher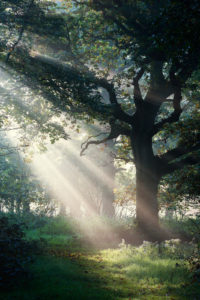 I so love trees and I'm sure you do too.  But, I am concerned about our trees.  Many are being struck with various types of blight and disease.  Wildfires are destroying acres of forest lands and others are falling into the hands of unqualified 'so-called professionals' or what I refer to as 'Tree Hackers.'  Oh you know them, the companies who do not have a clue how to properly prune a tree and send their employees up a tree with chainsaw and rope ~ a tree's life shortened by their handiwork. 
Additionally, in our part of the world, we are losing trees and beautiful forests to the drilling companies.  Acres of wonderful lush green woods, home for wildlife and man's enjoyment, now look like a war zone.  This is happening throughout North Central West Virginia and in much of the Appalachian Mountain Region and other regions of the east.   However, I know you didn't arrive for a visit to hear a sermon. So, I will refrain and share a few of my favorite trees and their beauty.  And, while what I am about to share are a few favorites, do know I appreciate and love them all.  

"To be poor and be without trees, is to be the most starved human being in the world. To be poor and have trees, is to be completely rich in ways that money can never buy." ~ Clarissa Pinkola Estés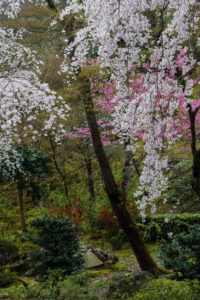 A glorious Weeping Cherry in bloom.
Oh, the beauty of a Weeping Cherry in bloom on a beautiful spring day ~ is truly a gift from above.  And to see its branches gently swaying in the breeze is a treasured sight.
And then there is the magnificent Ginkgo, often referred to as the Maidenhair Tree.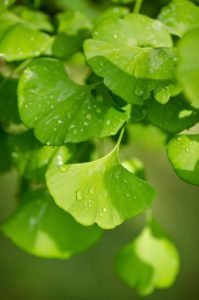 We had a ginkgo at our home in Virginia.  It was a gift from my mom, as she knew I thought they were wonderful.  At the time she gave the tree to us it was about two feet tall and when we sold our home, the tree had grown to the second story of our home.  It was a beauty and before we moved I took a few of the leaves, in green and gold, and had them framed.   The memory of that beautiful tree and the joy it brought, is with us every day. 
 A Ginkgo dressed in her autumn finest.
Ginkgo's can have a lifespan of 1,000 years or older. In China, the oldest ginkgo is about 3,500 years old.   The ginkgo has quite a history. It is a living fossil, with the earliest leaf fossils dating from 270 million years ago.    It is known to be one of the most distinct and beautiful of all deciduous trees.  The tree has unique, fan-shaped leaves turn a stunning yellow in the fall. It tolerates many urban conditions, including heat, air pollution, salt and confined spaces. And, it is easily established.  The ginkgo is hardy in zones 3~8.

"The best time to plant an oak tree is 25 years ago.  The second best time is now." ~  James Carville
One certainly could not write a post about trees without mentioning a magnificent oak tree.  My goodness, the stories oak trees could tell and the secrets they know.  The picnics they have enjoyed, the animals they have sheltered, the names of sweet loves they proudly wear, and the swings they have held are just a few.  We planted six oak saplings at our home in Virginia, three on either side of the front pasture.  Saplings my husband had dug in the woods.  When we planted them, I told them,"Now you can grow to the sky."  Just recently, a friend drove past our old home and wrote to let me know ~ our dear trees are still standing and they have 'gone to the sky.'
"I thought it would last my time –
The sense that, beyond the town,
There would always be fields and farms,
Where the village louts could climb
Such trees as were not cut down…" -Philp Larkin

 Sugar Maple's in their fall color.
Now, I wouldn't be much of a West Virginia girl if I didn't say a few words about our gorgeous state tree, the sugar maple.  The sugar maple is often referred to as a hard maple or rock maple.  It is one of the largest and most important of the hardwood trees.  These trees can live 300 to 400 years and they become brilliant beauties of red and gold in the fall.   The sap from the sugar maple is used to make maple syrup.  Their trunks are tapped in the early spring to collect the sap.  Beautiful specimens of this tree are found in all 55 counties in the state of West Virginia.
"Time spent amongst trees is never time wasted." – unknown

"And in the thickest covert of that shade, there was a pleasant arbor, not by art, but of the trees owne inclination made…" ~  Edmund Spenser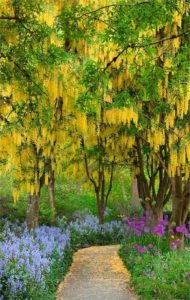 Lovely Golden Rain Trees in bloom.
"A beautiful girl with golden curls," are my words to describe a golden rain tree.  Oh, how I hope you have seen one.  If you have, you will understand when I say, "A glorious sight always remembered."  My mom had a golden rain tree in the corner of her garden.  I have special memories of the two of us just staring in awe on a June day, with the sun glistening on the tree's beautiful golden curls.
The golden rain tree lends grace and beauty to the landscape throughout the entire year.  But this tree is more than just a pretty tree. Golden rain trees are hardy, they thrive in tough urban environments and do well in a wide range of soil conditions.  Their beauty makes for a lovely sight near patios, in parks, and along city streets.  The tree is hardy in zones 5~9.

"The care of the Earth is our most ancient and most worthy and, after all, our most pleasing responsibility. To cherish what remains of it, and to foster its renewal, is our only legitimate hope." ~ Wendell Berry
The definition of the modern term, tree hugger is, "Someone who is regarded as foolish or annoying because of being too concerned about protecting trees, animals, and other parts of the natural world from pollution and other threats."  While I hope I have never been annoying, I do not believe loving and being concerned about our trees, wildlife and the natural environment is foolish.
There are many small towns and large cities across our land,  which have written ordinances into their charters in order to protect trees and the environment.  And, the work the Arbor Day Foundation is doing, with regard to the education of the public about the importance of trees, is amazing.  Their work has had a tremendous 'ripple effect.'  In New York City, the City Department of Parks and Recreation conducted a program called the "Great Tree Search." New Yorkers looked for trees of unusual size and age, those linked with historic landmarks, and trees of unusual species or location. On Arbor Day, they held a big party to celebrate New York City's Great Trees.

"Trees are poems the earth writes upon the sky, we fell them down and turn them into paper, that we may record our emptiness." ~ Kahlil Gibran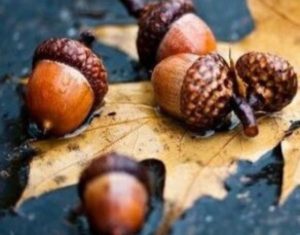 I hope you have enjoyed your visit today, and perhaps gained inspiration to plant a lovely tree or to take time to stroll among them.  At the end of this post you will find a bit of additional information and the date for Abor Day, 2019, should you want to plan a celebration with a group in your community.

Wishing you a most beautiful day! 
and 
"Remember to tell your local trees they are beautiful today." ~ Unknown
Au Revoir, 
Sandra
Tree Tidbits:
When planted around our homes, according to the U.S. Department of Agriculture, a young, healthy tree is equivalent to ten room-size air conditioners operating 20 hours a day.  They renew our air supply by absorbing carbon dioxide and producing oxygen. 
April 26, 2019, is Arbor Day ~ visit here for further information.
Note – Images via tumbler and Pinterest.  I do not claim ownership of these photos, I have simply compiled them for your enjoyment.