"White…is not a mere absence of color; God paints in many colours, but He never paints so gorgeously as when He paints in white."~G.K. Chesterton
Good morning dear friends!  It is so good to see you this morning.  Grab your coffee or tea, and join me for a stroll through, 'A White Garden!'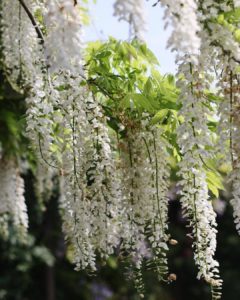 White Wisteria
The inspiration for today's post came from two different women ~ both loved white in the garden.  The first woman of inspiration is my dear mom.  She did so enjoy seeing white in the garden.  And I loved her white Bridal-Wreath Spiraea.  To stand in the spring and gaze upon the massive, roughly 40-foot section, of gorgeousness in her garden backed with luscious Canadian Hemlocks, was nothing short of magical.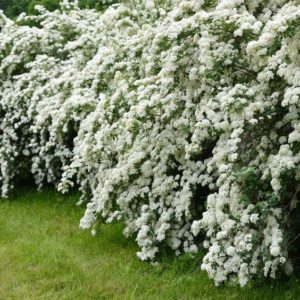 Bridal-Wreath Spiraea
It is interesting, as I look back on my first gardening days and think about what I enjoyed.  Then, it was all about color and more color. Now don't get me wrong, I still love and have many colors in our garden. However, I have come to enjoy the softness white adds.  Just as a point of information, according to color experts, a preference for white often forms in ones middle age years.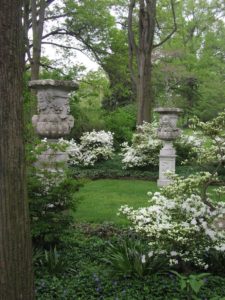 White azaleas blooming in a well-established garden.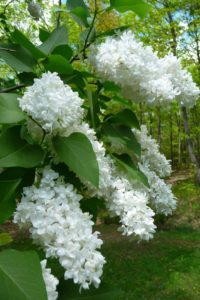 I do love lilacs and a white lilac in full bloom can make a huge visual impact.  Oh, the fragrance, certainly you smell them.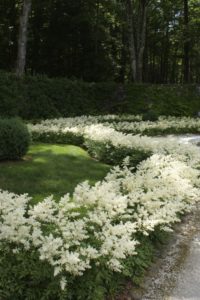 Tell me, what do you think of this planting of Astilbe?  I have always been partial to pink Astilbe, but this mass planting of white is fabulous, in my opinion.  Astilbe loves the shade and really loves to be watered. It contributes a distinct texture to a garden with its tall, feathery plumes.  White flowers seem to have a cooling effect, especially on hot summer days. And they almost glow in the evening, making them a perfect plant for along walkways or a patio. 

"The more one gardens, the more one learns; And the more one learns, the more one realizes how little one knows." ~ Vita Sackville-West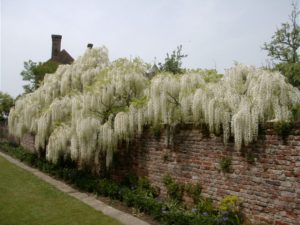 White wisteria cascading over the garden wall of Sissinghurst.
The second woman of inspiration is the famous gardener, Vita Sackville-West.  My mom introduced me to Ms. Sackville-West through books.  Mom had studied her garden designs, especially her White Garden at Sissinghurst. Should you not be familiar with Sissinghurst,  Sissinghurst Castle Garden in the Weald of Kent in England at Sissinghurst village is owned and maintained by the National Trust. It is among the most famous gardens in England.  The garden was created in the 1930's by Ms. Sackville-West and her husband Harold Nicolson.  She was a poet and a gardening writer, her husband was an author and a diplomat.  The garden is designed as a series of rooms, each with a different main color/theme.  One of the rooms or gardens is a white garden.  Only the colors of white, green, grey and silver are grown in this pale garden.  Therefore, creating the lovely White Garden, one of the most famous garden areas of Sissinghurst.
The following are words from the National Trust ~ "Creating one colour borders and gardens was something that appealed to Vita. She had already created the Cottage Garden with its narrow range of 'hot' colours and relished the idea of another opportunity to experiment with colour. She understood that when colour was restricted, the focus of the gardener had to be on creating interest and drama with different shapes, textures, and form. The all-important structure with yew and box hedging was created, allowing the white flowers and silver foliage to shine out against the dark background. In her plans, Vita imagined a low sea of grey clumps of foliage, pierced here and there with tall white flowers."

"A good start in life is as important to plants as it is to children: they must develop strong roots in a congenial soil, otherwise they will never make the growth that will serve them richly according to their needs in their adult life." ~ Vita Sackville-West
I would like to share, a few of the beauties planted in the White Garden at Sissinghurst.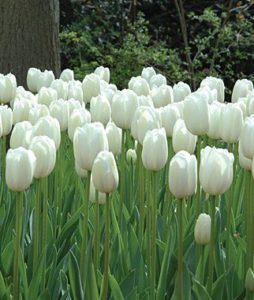 Tulip, White Dream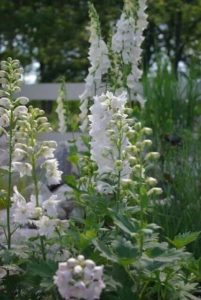 Delphinium, Snowgoose and White Foxgloves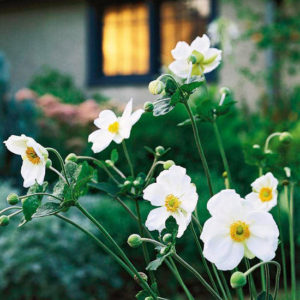 Anemone, Honorine Jobert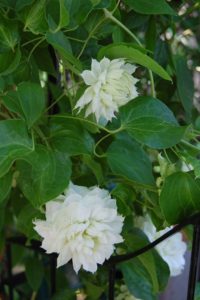 Clematis, Duchess of Edinburgh
I also thought you may enjoy the poetic writing of Ms. Stackville-West regarding her beloved White Garden.  With her lovely words, she transports me to this garden ~ I sincerely hope she does you, too.
"The white-and-grey garden begins to look well in June, when the little avenue of Almond trees down the centre is draped with the lacy white festoons of Rosa filipes and the genuine old 'Garland' Rose, and when generous plantings of Lilium regale come up through the grey Artemisia and silvery Cineraria maritima; but it is perhaps at its best a little later on, when the great metallic-looking Onopordons have grown up, and clouds of Gypsophila 'Bristol Fairy' throw a veil round the pencils of a white Veronica, and a few belated white Delphiniums and white Eremuri persist, rising among this grey foliage, with the grey willow-leaved Pyrus salicifolia sheltering the grey leaden statue of a Vestal Virgin."
Clearly, I have not begun to touch the surface of the fabulous variety of plants in the White Garden or of the extraordinary talents of the designer.  But, I hope you have, perhaps, formed an impression of the multitude of magnificent things growing there ~ creating glorious beauty.  

"The Earth is crammed with heaven." ~ Elizabeth Barrett Browning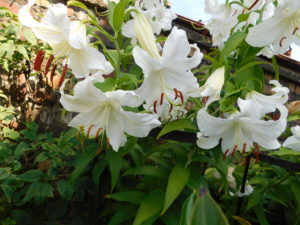 Casa Blanca Lilies in bloom at 'Maison De Jardin'
I do not want to take all your time this morning so I will close by saying, "I hope you have enjoyed your visit.  Perhaps you may have found a bit of inspiration for your own garden ~ possibly viewing white through new eyes."
Wishing you a most beautiful day!
Au Revoir,
Sandra
Note:  Images~ Pinterest, Tumblr, and S. Lambiotte
Unless otherwise stated, I do not claim ownership of these photos. These photos are the work of tremendously talented people and I simply compiled them for your enjoyment.