"Whether people are fully conscious of this or not, they actually derive countenance and sustenance from the "atmosphere" of the things they live in and with." – Frank Lloyd Wright
Good Morning Everyone:
Even though it may still seem like winter for many of you, take heart, spring is near.  And, she will soon arrive in full, glorious bloom.
This morning, I would like to share the words of someone I greatly admire – Alexandra Stoddard.  My husband and I had the great pleasure of spending time with her and her husband several years ago.  A special and wonderful time, I will write about later.  But, today I want to share her words about "Tending Your Own Garden."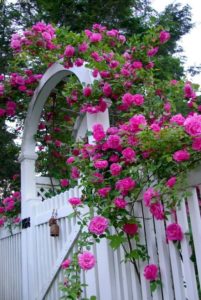 "Plant your seeds and cultivate your own garden.  Everyone who does so is wise, because happiness is centered here.  Our house becomes a home when we love it.  Our home can always be in bloom, full of springtime, fresh beginnings, plants growing, and happiness flowering.  Paradise is right here, right now, day by day.  Our homes are our ideal earthly paradise.  Give your home your all, feed it with beauty, color and light:  treat all your objects with respect and dignity.  It is here that we create paradise; it is here that we are nourished by our sacred refuge, our physical environment we love that loves us back.  Our homes can be so enriching that we choose not to leave at all and to take our vacations there."
So today, take a look around your home and decide how well you are "tending your garden."  Does she need attention?  If so, spring is all about new beginnings and is the perfect time to think about your  special place.  The place which gives you shelter from the world.   And, the place where you derive countenance and sustenance.
Thanks for visiting – have a beautiful weekend !
Au Revoir,
Sandra
ps.  Always happy to assist or answer any gardening or interior design questions you may have.   You may contact me here on the blog under the comment section, or click on Contact and send me a message.
Photo: davesgarden.com/Pinterest
Stoddard quotes from her book:  "Choosing Happiness"